Where to eat. Favorite restaurants around Cascais.
Here are some of our favorite restaurants around Cascais. Alongside the Portuguese ones of course, we've included a variety of restaurants with food from other parts of the world to suit all tastes and because they are so good. You will also find tips on where the locals like to go. If you have any favorites of your own we would love to hear from you. Simply send us your views on the Contact Us Page.

Click on links for details.


Fantastic Fish
Where the locals go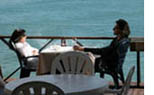 Great sea views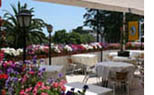 Italian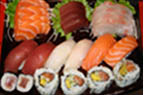 Asian Chinese, Japanese, Indian and Thai.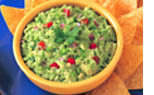 Other

Portuguese Restaurants and
Other International Cuisine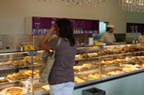 Cafes and Cake Shops



A love affair with food
Unlike their more colourful neighbours, the Portuguese are an understated and rather modest bunch who are nevertheless extremely demanding when it comes to food, wine and football. If the Portuguese media is anything to go by, you would think that everyone in the nation is passionate about football and little else, but that isn't true. They are all however extremely passionate about food.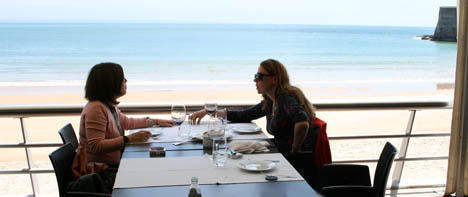 Basically the Portuguese love to eat. A get together at the weekend will normally revolve around a good lunch or dinner. Day trips are planned with a particular restaurant in mind. Excursions to different regions in the country are recommended by the phrase "the food's great there". More than enough reason to travel a long way if you are Portuguese.
So what do the Portuguese like to eat? Well, they generally look for the best possible quality and regional specialities at a reasonable price. A restaurant's location, décor, or ambience are secondary considerations and in some cases amazingly irrelevant. The best pork I have ever had for example was served to me in a tiny, cramped and very kitch converted front room of someone's house, in a dead end alley in the middle of Evora Alentejo. Had it not been for the insistence of a dear Portuguese friend who sniffs out good food wherever he goes, like pigs sniff out truffles, I would never have gone into such a place. Since then whenever my children see pork on the menu they ask, "Is it like the one in Evora?"
So the first lesson here is, if it is full of locals, it must be good.