Options for getting around Cascais.
Walking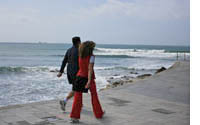 Once you are in Cascais, getting around is quite easy. If you like to walk you can see a lot on foot. The town is not too big and you can very easily combine a healthy stroll along the sea front with a good meal. From the Cascais Marina to Boca do Inferno (a dramatic rock formation which means 'The Mouth of Hell') and further along the sea front to the Casa da Guia there are many excellent restaurants. The old part of town is also very charming and best seen on foot.



Free Bicycles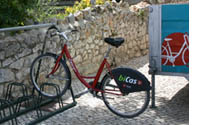 The Town Council provides bicycles which you can rent free of charge. You must be over 16 and show an ID card or passport at one of the collection points around town. They can be found across the road from the Cascais Train Station, in front of the Cidadela and at the roundabout at Guincho beach.
They are open from 8am to 7pm every day. During the summer you if you want to rent a bicycle you should go early as they are snapped up quite quickly. You can return the bike at any one of the collection points.
The cycle path starts near the Marina and ends at Guincho. It can be crowded in the weekends during the summer.



Take the Train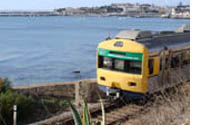 Going to Lisbon, or any of the other seaside towns along the way such as Carcavelos or Parede is very easy by train. Trains leave the Cascais railway station approximately every 15 minutes. The last stop in Lisbon is Cais do Sodré. This is very central and you can get a taxi from here to your chosen destination in Lisbon.
For monuments including the beautiful Mosteiro dos Jerónimos or the Torre de Belém, leave the train at Belém. For fun restaurants and bars the Docas area is very popular, especially at night. For the Docas you should leave the train at Alcântara.
The railway line goes along the coast all the way to Lisbon which makes the journey very pleasant.




Taxis
Taxis are reasonably priced, certainly compared to other countries in Europe. Reliable and safe, but nevertheless it is always a good idea to check the meter when you get in and out. Tips are not expected, but appreciated.