Asian Restaurants
Estoril Mandarim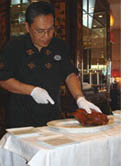 Located in the Casino Complex in Estoril with the main entrance overlooking the gardens in front of the Casino that lead down to the sea, the Mandarim is undoubtedly the best Chinese restaurant in the district of Cascais. Classic Chinese recipes including Peking Duck are prepared very nicely here but you have to order a whole duck so best go in a group for this particular dish.
Tel:21 466 7270.


Sushi Guia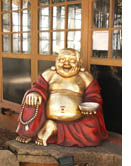 Quiet and relaxing. Good Japanese food and fantastic sea view. Another great restaurant at the Casa da Guia.
Tel: 21 484 8223


Boa Sorte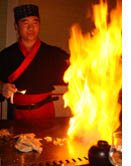 Entertainment while you eat at this cozy restaurant which offers an unusual mix of Chinese and Japanese food. Excellent food including Sushi and Sashimi and teppan-yaki, their speciality. You can book the seats around the teppan-yaki table (max 9 people) and enjoy an impressive culinary show as the chef tosses knives and salt shakers in the air, then sets fire to your food.
Travessa das Amoreiras, 17A, Torre, Cascais.
Tel: 214 867 018.



Carcavelos Sushi Café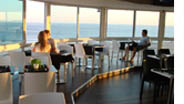 Recently opened the Carcavelos Sushi Café has wonderful panoramic windows allowing you to see all of Carcavelos beach while you enjoy their great Japanese food.
Av. Marginal Edifício Veleiro - Praia de Carcavelos. Tel: 93 831 93 20



Masala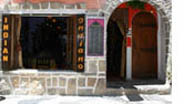 Masala, in the very center of Cascais has over 100 different choices of excellent Indian food. From mild to very hot curries, vegetable dishes and kid menus. There is something here for everyone. Take Away service for orders over 20 Euros.
Rua Frederico Arouca, 71, Cascais.
Tel: 21 486 53 34



Bangkok Thai Moods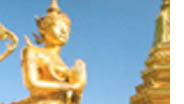 There is a new Thai Restaurant in the centre of Cascais. Great food, pleasant interior. Well worth a visit.
Rua das Flores, 18, Cascais.
Tel: 21 486 4501.



Kwantha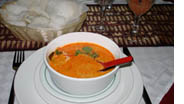 Thai restaurant in Cascais town centre. Specialities include, Khao ob su, Pad Thai Goong sod, Ped Kwantha, Planueng manow. We recommend their very tasty soups. Childrens' menu available. Take Away service for orders over 20 Euros. Rua Afonso Sanches 52, Cascais. Tel: 917 160 301





Return to Restaurants