Great cafes for breakfast, tea, hanging out or simply indulging in delicious portuguese pastries.
Pastelaria Garrett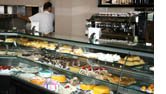 Famous in the region and for its outstanding quality cakes, biscuits, pastries and bread, all freshly made on the premises. A favorite for breakfast, high tea or coffee at any time of day. Difficult to find a seat in the weekend.
Avenida Nice,54. Estoril. Tel: 21 468 0365.


Confeitaria do Monte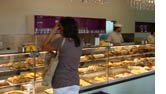 Also known locally as the Cafe Mimosa. Beautifully refurbished recently to give it a much more modern look, this cafe is full of heavenly pastries, bread, quiches etc, made on the premises. A wonderful spot for breakfast and reading the weekend newspapers. They also serve lunch. Avenida do Lago, 4 - Monte Estoril.





Return to restaurants