With such a long and lovely coastline it is not surprising that there are so many good restaurants with spectacular sea views around Cascais.
Os Prazeres da Carne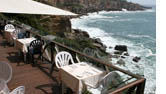 Located at Casa da Guia, on the Estrada do Guincho, Cascais. Speciality meats, from Argentina and Brazil, but you will also find wonderful prawn dishes amongst other options. Magnificent sea views, especially from the outdoor terrace. A favorite place for anyone visiting Cascais. Tel: 214 843 334


Jonas Bar Restaurant
Located on the promenade near Monte Estoril train station. Here you not only have a magnificent sea view, you are close enough to the ocean to enjoy the relaxing sounds of the waves as well. Grilled fish, hamburgers, salads. Good fruit juices. Tel: 21 467 6946.



Bar Moinho Dom Quixote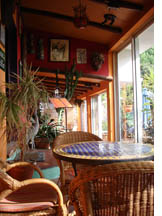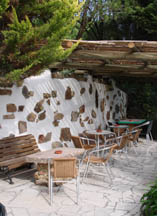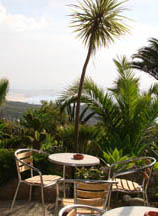 This fantastic restaurant is located off of the Estrada do Cabo da Roca, in Sintra. The house alongside a restaured old mindmill has been converted into an exceptionally cool restaurant and bar offering simple food such as Chilli Con Carne, Burritos, Hamburgers etc. With brightly colored walls, artifacts from Brazil, Mexico and Indonesia amongst others, lovely Morroccan tiled tables and salsa music in the background, you could easily imagine that you are somewhere like South America, not in Portugal at all. You can eat outside almost all year round amongst the array of tropical plants in the garden and enjoy the fantastic sea view of Guincho beach and beyond.
Rua Campo da Bola, 7 - Vivenda Moinho - Azóia, Colares, Sintra.





Return to Restaurants