What to see. Places of interest in and around Cascais
Museums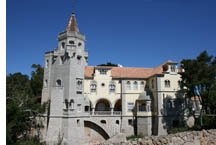 The Condes de Castro Guimarães Museum
This magnificent building was left to the municipality of Cascais by the Conde of Castro after his death in 1927. The grounds and library were officially open to the public in 1931. There is a beautiful Chapel said to be from the 17th Century, 'Capela de S. Sebastião', on the property.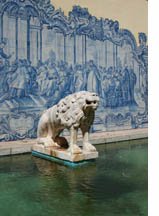 Also this beautiful water fountain with hand painted tiles.
Open Tuesday to Friday from 10am to 5pm.
Saturdays and Sundays, open at the same times except that the museum closes for lunch from 1pm to 2pm.
Av. Rei Humberto II de Itália, Parque Marechal Carmona, Cascais.
Tel: 21 481 5304.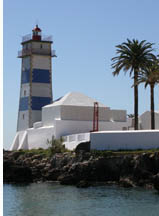 Lighthouse - Santa Maria Museum
From 1st May to 30 September: open from Tuesday to Sunday 10am to 7pm.
From 1st October to 30 April: open same days but from 10am to 6pm.
Rua do Farol, Cascais. Tel: 21 481 5328.